Music Director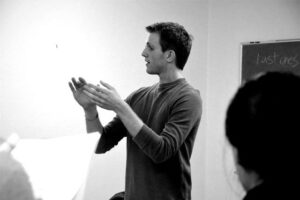 Nic Renaud is passionate about teaching and working with others toward musical growth and fun performances. Nic has taught and conducted many choral and instrumental ensembles, from beginner bands to university-level choirs. He has also sung professionally in many ensembles and as a soloist. Nic currently teaches in the public school system where he has taught concert and jazz bands of all ages, high school choir and vocal jazz. 
Nic earned his Bachelor of Education specializing in Secondary Music and French at the University of British Columbia where he received the prestigious Outstanding Practicum Award. He completed his practicum with Dave Mills and Jennifer Williams at RE Mountain Secondary in Langley, BC. Nic graduated with a Bachelor of Music degree from the University of Victoria where he double majored in Secondary Instrumental Music Education and Voice Studies; he studied conducting with Dr. Gerald King. During his undergraduate studies, Nic was twice selected as one of eight university students to receive a fellowship to attend the UCLA Wind Conducting Workshop where he studied under the guidance of notable American band conductors Jerry Junkin (Dallas Winds), Michael Haithcock (U of Michigan) and Dr. Travis Cross (UCLA Wind Ensemble). While teaching in the school system, Nic has had the opportunity to learn from excellent teacher-conductors, including Bob Rebagliati.
Aside from his experience with school-aged musicians, Nic's past conducting engagements include: Assistant Conductor of JoyVox Community Choir (Abbotsford, BC), Assistant Director of the University of Victoria Vocal Jazz Ensemble, Director of the UVic Vocal Jazz Women's Chorus, Guest Conductor of UVic Men's Chorus, and Guest Conductor of the UVic Chamber Singers. In 2018, Nic was honoured to serve as Intern Conductor of the BC Youth Choir under the tutelage of esteemed Canadian youth choir conductor, Allison Girvan.
Nic has recently finished graduate studies in the Faculty of Education at Simon Fraser University, where he focused on inclusion, interaction and connection in the classroom. He is devoted to building community and cooperation through the study of music, engaging in innovative teaching that involves a variety of approaches and activities to foster teamwork. Nic works hard to empower others to develop confidence as they learn to express their creativity through group music-making and engaging musical performances.
---
Executive Team
This is your executive team! They are volunteer members of the FVCW who are dedicated to the ensemble, its members, and the behind-the-scenes work it takes to keep it alive.
Feel free to contact members of the executive team with any questions, comments, or feedback you have. For general questions, or if you're not sure who you wish to speak with, please direct your questions to info@fvcw.ca.

Brittany Jenewein, President, president@fvcw.ca
Craig Raven, Treasurer, treasurer@fvcw.ca
Mary Kreisch, Secretary, secretary@fvcw.ca
Wendy Snyder, Director, info@fvcw.ca
Nelly Fargeon, Director, info@fvcw.ca