Don't miss a beat! See what's happening next with the Fraser Valley Community Winds!
To see all events, including rehearsals, you can also view our calendar.
---
Upcoming
The 2023/2024 season started September 7, 2023! We have another great season in the works. Here's a preview of what's to come:
Bowling Fundraiser – October 13, 2023 – 6-8pm at Galaxy Bowl Abbotsford
Strike a Chord of Support! Join us at our Bowling Fundraiser to support our community band's musical mission. Pizza is included in your ticket, and you'll have a chance to try your luck at winning our lotto board and 50/50 draw. Roll for rhythm, spare some love, and strike up the fun together to keep the music playing!
Thanks to everyone who came out to support this event!
---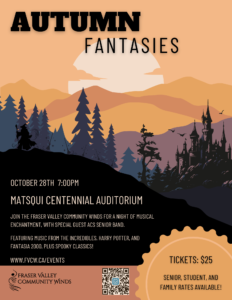 Autumn Fantasies – October 28, 2023 – Matsqui Centennial Auditorium, Abbotsford
Join us for a night of musical enchantment, with special guest: Abbotsford Christian Secondary Senior Band. Featuring music from Harry Potter, and Fantasia 2000, and classical favourites sure to put you in a spooky mood!
---
Remembrance Day – November 11, 2023 – Aldergrove Legion
We will once again be joining The Aldergrove Legions' November 11th Remembrance Day Ceremonies, honouring our veterans past and present. We will play outside during the laying of the wreaths as well as a small concert inside after the ceremony. Both ceremony and concert are open and free to the public.
---
Christmas at Garden Park Tower – December 3, 2023 – Garden Park Tower, Abbotsford
We are thrilled to be bringing a free and festive concert to the residents of Garden Park Tower again this year! This event is open to the public. Join us to celebrate the holiday season with great music, delicious treats, and awesome company.
---

Winter Holiday Concert with Joy Vox – December 9, 2023 – Calvin Presbyterian Church, Abbotsford
Join us for our feature holiday concert "Winter Star", where we will be performing with Joy Vox Community Choir for the first time (and hopefully not the last!). Tickets are $25 and on sale at joyvox.ca, and also available at the door. Concert starts at 7PM!
---
Spring Concert – April 27, 2024 – Matsqui Centennial Auditorium, Abbotsford
---
Canada Day – July 1, 2024 – Mt. Lehman Community Hall
---
Stay tuned! We'll keep you posted with all the details as they are finalized.
If you have a place you think could use a musical touch from the FVCW, give us a shout!
---